Fight racism and defend migrants
The immigration system is not broken – it is violent and hostile by design.  NO BORDERS IN OUR NHS.
---
Scroll down this page for:
1:

End racism in the NHS

2:

The hostile environment 

3:

What "anti racism" actually is

4:

  Championing patients and staff

5:

  Charging for NHS treatment

6:

  Pregnancy care

7:

Access to healthcare for migrant children

8: 

Campaigning in the North East – 2019

9:

  Covid 19

10:

Healthcare for All, Newcastle upon Tyne – July 2020

11:

"Vaccines for All" Campaign – February 2021

12: 

Action in Leeds – September 2021

13:

  No Borders in the NHS, Newcastle upon Tyne and Whitley Bay – October 2021

14: 

Challenging the hostile environment – what you can do to fight racist policies

15:

….and to clarify

16:

National organisations

17:

Translations – Covid19 information

18:

  Toolkits

19:

  Links
---


KONPNE, Patients Not Passports and Medact – supporting the North East Climate Change March and Rally, Newcastle upon Tyne, November 2021
---
1:
End Racism in the NHS
---
2:
The hostile environment
"The hostile environment is a sprawling web of immigration controls embedded in the heart of our public services and communities. The Government requires employers, landlords, private sector workers, NHS staff and other public servants to check a person's immigration status before they can offer them a job, housing, healthcare or other support. Landlords and employers can face fines and even criminal sanctions if they fail to do so.
Immigration controls are now embedded in everyday interactions between trusted public sector workers and the people they are supposed to serve: nurses and patients, police and victims of crime and teachers and their pupils. New offences mean undocumented migrants find themselves criminalised for doing what they must to survive – in some cases simply for working or even driving"
Liberty: A Guide to the Hostile Environment (2018)
========
---
"70 years after its creation, the

Refugee Convention

is under attack. Priti Patel hopes to p

unish refugees on arrival,  n

ormalise migrant prisons and l

imit access to justice. It's time to take action. Our

#SolidarityKnowsNoBorders"
Migrants Organise (August 2021)
========
---
Click here for the Migrants Organise video  
========
---
and click here for the presentation by Zoe Gardner ("Joint Council for the Welfare of Immigrants") to MPs about the dangers of the anti-refugee Borders Bill: Don't criminalise Refugees  (21st September 2021)
========
---
3:
What "anti racism" actually is
Selvaseelan Selvarajah     

@DrSelvarajah
---
4:
Championing patients and staff
All hospital trusts now have the mechanisms in place to know exactly how much every individual patient's care cost, whether you are required to pay, the ability to send you a bill and have in place debt collection agencies to chase you if you can't pay.
We believe strongly that hospitals should not be a hostile environment. Keep Our NHS Public has campaigned against the introduction of NHS charges for migrants since their introduction in 2014. We believe that the NHS should be free at the point of use for all, and that these charges are an attack on our communities and the basic principles of the NHS.
---
5:
Charging for NHS treatment
Government policy has rendered 600k people, including 120,000 children, ineligible for free NHS care.
Since the law changed in 2015 many people are no longer deemed 'ordinarily resident' in the UK and are charged for all NHS care at 150% of cost price except for emergency care. This has put many lives at risk and caused great hardship for many of our local residents. Since 2017 this policy has been further ramped up by the Government with more and more pressure being put on Trusts to collect money from those deemed as 'non-resident'. Unpaid debts can lead to visas, or right to residency being removed. 
---
6:
Pregnancy care
Pregnant women are thought to be particularly targeted and a Freedom of Information request from Save Lewisham Hospital Campaign showed over 500 women in Lewisham and Greenwich NHS Trust in 2018 alone, were asked to pay up to £9,000 for having a baby. A new report from Maternity Action backed by the Royal College of Midwives in September 2019 showed these charges risked making women unable to access appropriate perinatal care. 
---
7:
Access to healthcare for migrant children
From  Royal College of Paediatrics and Child Health: "We've just published our position statement on migrant healthcare. Evidence shows the migrant charging regime deters children from accessing healthcare, which negatively impacts health outcomes. We want charging to stop."  12th August 2021
Read the position statement (12th August 2021) from RCPCH here
and the related RCPCH Insight article (6th November 2020) here
---
8:
Campaigning in the North East – 2019
In 2019 Keep our NHS Public North East asked all of our local NHS Trusts (via a Freedom of Information request) about the total cost of the charges sent to non EEC nationals, their total income, the percentage of the charges they recovered from non EEC nations, the name of their debt collection company and how much they paid for their debt collection.
Newcastle Hospitals, Northumbria, NTW Mental Health Trust, QEGateshead, South Tyneside Hospitals and City Hospitals Sunderland (now South Tyneside and Sunderland NHS Foundation Trust) and County Durham and Darlington Trust all replied. All employ debt collection agencies, for charges that vary from 0.01% to 0.03% of their income. However, NTW Mental Health Trust told us that 0% of their charges had been recovered by them because 'it is not cost effective to pursue as its destitute migrants with no access to funds'.
Over the last year KONPNE, have been working with "Connected Voice", "Haref" and "Asylum Matters" on the issue of migrant charges and the sharing of data between our hospital Trusts and the Home Office. During the COVID period we have been talking to local authority councillors from Newcastle and Gateshead regarding the possibility of them writing to their local NHS Trusts to ask that they consider suspending charges and data sharing.
---
9:
Covid-19
During the COVID 19 pandemic Black and Minority Ethnic patients have died disproportionately, even while working as doctors, nurses, cleaners, in care homes and public transport. Migrants face NHS charges and may be reported to the Home Office if they can't pay. Fear keeps people from seeking treatment, and women may have died in childbirth as a result.
"You don't know if you have Covid if you're too scared to see a doctor," says Consultant
Microbiologist Dr Jonathan Folb from Liverpool. "We cannot defeat this pandemic if people are too scared to be tested, treated, or participate in 'track and trace'.
The advent of COVID 19 has brought the matter of migrant charges and sharing of data into the limelight. The current NHS charging policy was amended on 29th January, meaning that no charge should be made for diagnosis or treatment of COVID-19 as a Public Health measure. This does not undo the years of hostile environment policies which have prevented many from accessing health services. The very real fears of sanctions or deportation as a result of accessing public services has long been documented by those working in the migrant rights sector. These fears have been shown to cause much morbidity and mortality among our most vulnerable residents. 
COVID-19 has exacerbated an already urgent situation, with many undocumented migrants losing their livelihoods and now ineligible for government support. This prompted a group of 60 cross-party MPs, 7 healthcare unions (including multiple Royal Colleges, the BMA and Doctors of the World) and over 100 civil society organisations to write to the Health Secretary, calling for an immediate suspension of charging for migrants and all associated data sharing with the Home Office. This approach has also been championed by the WHO, who rightly point out that inclusion will not only help to protect the rights of migrants, but will also serve to protect public health and stem the spread of COVID-19. 
They called on Priti Patel (Home Secretary) to:
– ensure access to healthcare – this means immediately suspending all NHS charging and data sharing with immigration enforcement, and launching a public information campaign that makes
clear that healthcare services are available and safe for all migrants to use
– ensure all migrants have access to vital public services by suspending 'No Recourse To Public Funds' conditions 
– make assurances that no one will be penalised for missing appointments, reporting or court dates due to illness
– make sure no one is made an 'overstayer' because of being self-isolated or unable to return to a country that is not safe to travel to, by extending or modifying visas 
– release everyone detained under immigration powers to reduce the risk of COVID-19 entering the detention estate and causing avoidable harm
– provide specialist support for those housed in shared Asylum Accommodation to enable safe access to medical services, testing, and where necessary, re-housing for particularly vulnerable people.
"Keep Our NHS Public North East", with "Connected Voice", "HARAF" and "Asylum Welcome" have been talking to councillors from Newcastle and Gateshead council about the situation locally.
On 24th June 2020 Cllr. Martin Gannon (Leader of Gateshead Council) and Lynn Caffrey (Chair of Gateshead Health and Wellbeing Board) wrote to Yvonne Ormston (Chief Executive of QEGateshead) on the issue of migrant charging.

January 2022 – Click here to see the Joint Council for the Welfare of Immigrants report "We also want to be safe":  "The Hostile Environment is undermining public health efforts and putting lives at risk. The Government's Hostile Environment policies have undermined public health efforts, excluded undocumented migrants from the public safety net and subjected them to the worst COVID outcomes. If the Government is serious about protecting all our communities from COVID and returning to life as 'normal', it must put public health before anti-immigrant policies and immediately suspend the Hostile Environment from all areas of public life".
---
10:
Healthcare for all – July 2020
KONPNE at the Monument, Newcastle upon Tyne; July 2020
---
11:
We call on the DHSC to ensure that everyone has access to the coronavirus vaccine, regardless of immigration status, ID or proof of address. In order to address the coronavirus pandemic and strengthen public health efforts, the coronavirus vaccine must be safely accessible to everyone, regardless of immigration status, ID or proof of address. 
The Government has stated that everyone is able to access the coronavirus vaccine, but in practice, people are being asked for ID, are unable to register with a GP, and are afraid to access services because of longstanding and entrenched barriers to healthcare.  Without further action, the pandemic will continue to have a disproportionate impact on all marginalised groups, including migrant communities, people experiencing or at-risk of homelessness, and BME communities. 
We therefore call on the Department of Health and Social Care to ensure the vaccine programme works for everyone, and seeks to address the specific barriers faced by these communities in line with calls from the JCVI. 
The Department of Health and Social Care must:
Guarantee a firewall that prevents any patient information gathered by the NHS or Test and Trace being used for the purposes of immigration enforcement. 

End all Hostile Environment measures in the NHS, including charging for migrants, to combat the fear and mistrust these policies have created.

Provide specific support to all GP surgeries to register everyone, including undocumented and under-documented migrants and those without secure accommodation, and ensure that all other routes to vaccination are accessible to everyone.

Fund a public information campaign to ensure that communities impacted by the Hostile Environment are aware of their right to access the vaccine and the steps taken above.

         

                                                https://www.vaccineforall.co.uk/

Thursday 15th July 2021:  Report on Channel 4 News highlights the fact that the majority of people in vulnerable situations who try to register with a doctor are still missing out on the healthcare that they so desperately need. This is due to a lack of knowledge about their rights both on the side of the patient, who is therefore unable to advocate for themselves, and the GP surgery who should know the rights of the patient and inform them. The report demonstrates to the wider public just how much more work needs to be done.
Channel 4 Report is

here
---
12:
Leeds KONP – September 2021
Leeds KONP joined the march in Sheffield to protest against charging for those without settled status. No credit to

@SheffieldHosp

for not being able to find representative to accept 75k petition……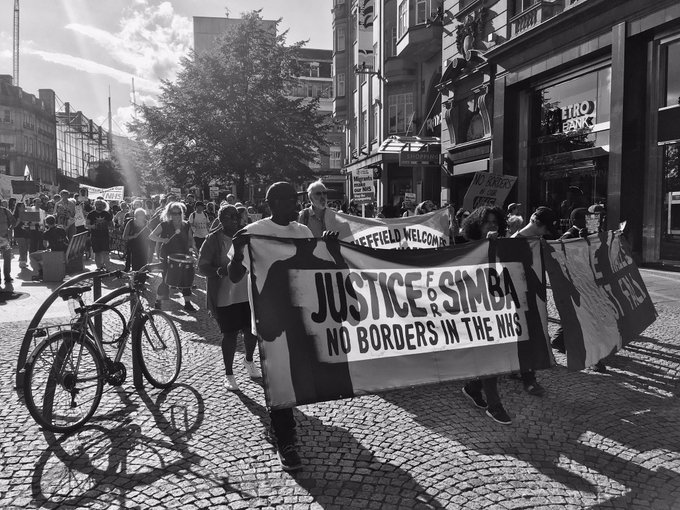 ---
13:
No Borders in the NHS – RVI, Newcastle, Monday 25th October 2021
**Click

here for the Chronicle report following the KONPNE / MEDACT NE action in Newcastle on Monday
October marks four years since the introduction of upfront charging for migrants in the NHS, and two years since the deaths of 39 Vietnamese migrants who were found in a lorry in Essex. We remember Nasar Ullah Khan, who died after being denied treatment for heart failure. We remember Elfreda Spencer, who died because she could not pay £30,000 upfront for chemotherapy. We remember Kelema Mulat, who died following a 6 week delay in breast cancer treatment. We remember Elvis, who died of coronavirus without help because he was too scared of being charged or deported if he came forward for treatment. We remember all whose lives have been made disposable at the hands of Britain's hostile border controls—their bravery, their struggles to survive and their campaigns for a better world.
This week, in the North East, we join forces with others across the country to make a very clear message: no borders in healthcare. The NHS must treat #PatientsNotPassports. 
25th October 2021 outside RVI, Newcastle-upon-Tyne
No Borders in the NHS – Dome, Whitley Bay, Wednesday 27th October 2021
This morning, KONPNE were proud to support the Newcastle group of "Patients Not Passports" in campaigning against the charging of asylum seekers and refugees for NHS services.
Pictured outside the iconic Whitley Bay Dome, Clare Bethell from the "Patients Not Passports" group said: "My work with asylum seekers with Care for Calais has shown me that migrants and asylum seekers in need of health care will not use the NHS for mental health issues, pregnancy or infectious diseases care because they know that they will be sent a bill for thousands of pounds. When they don't pay, our hospital trusts send the debt collectors after them. When they try and register with GPs they are often asked for a myriad of documents to prove who they are and where they live, which they don't have. They then become more unwell and need more care than they would have done. We must stop patient charging in the NHS and return to an NHS with no Borders."
27th October 2021 outside the Dome, Whitley Bay
More information
More information about the "Patients Not Passports" week of action is here

 
#patientsnotpassports #medact #nobordersinthenhs #refugeeswelcomehere #setherfree #migrantsorganise #careforcalais #NEAR
---
14:
Challenging the hostile environment – what you can do to fight racist policies
⊕
Hospitals, dentists and GP surgeries have been asked by government to display posters explaining that NHS care is not free for everybody.
If you see one of these posters you can; –
– Ask why it's being displayed
– Ask if it can be removed
– Remove it
---
⊕ 
---
⊕ 
Write to the Department of Health and Social Security by using the Patients Not Passports template letter  https://act.patientsnotpassports.co.uk/
---
⊕ 
Use this template pack (compiled by Medact) to write to your local council to ask them to contact their local hospital trust
---
⊕ 
If you belong to a political party or union please ask your branch to adopt one of the following motions
or
---
⊕ 
Check out some of the toolkits linked below – written by experts – there is MUCH that you can be doing….
---
⊕ 
And don't forget to share your experiences with "Keep Our NHS Public North East"  via konpnortheast@gmail.com   
---
Thank you
---
15:
…

and, also, to clarify…..

……. a migrant is more likely to be the nurse or doctor treating you, than being ahead of you in the A&E queue….
---
16:
National organisations
---
17:
Translations – Covid 19 information
Doctors of the World: Coronavirus advice –

CLICK HERE

for the latest Government guidance translated into 60 different languages 
Covid19 Infographics: A group of doctors, medical students and volunteers have created infographics in a variety of languages to help summarise key points about COVID-19  – the right information, in an easy to understand format  – CLICK HERE
---
18:
Toolkits
---
19:
Links
---

Grey's Monument, Newcastle upon Tyne, November 2021