Private hospital firms are rubbing their hands with glee as waiting lists grow and increase demand for self-pay surgery for anything from hip replacements to heart operations has soared since the start of the pandemic. Increasing numbers of patients are now choosing to go private 'as a last resort' after waiting for months, with some considering taking out loans, or help from family members. Others are using money they might otherwise have spent on costly holidays if not for Covid. 
Britain's largest private hospital group, HCA, told the Daily Mail last month there had been an increase in 'higher acuity care' since the start of the pandemic – including a 20 per cent increase in 'self-funded cardiothoracic inpatient procedures' costing upwards of £17,500. There has also been a 30 per cent increase in self-funded neuroscience procedures, such as those on the spinal cord and brain. Desperate patients facing ling delays to access NHS treatment are also paying privately for urology, which covers treatment of the prostate, bladder and kidneys, gastroenterology – and increasingly willing to pay for cancer care. Nuffield Health, with 31 private hospitals, reported rising demand from self-paying patients: so did the largest private hospital chain, BMI Hospitals, with most requests for hip and knee replacements. 
Private sector analysts LaingBuisson's research confirms that NHS delays were the biggest driver for patients choosing to pay for treatment.
Siva Anandaciva, chief analyst of the King's Fund think-tank, told the Daily Mail: 'It's worth remembering the vast majority of private healthcare providers rely on staff who also work in the NHS – the same staff who already have full time workloads and are at risk of burnout after 18 months working in the pandemic.'
Jonathan Ashworth, Shadow health secretary, told The Independent that for seven out of 15 diagnostic tests, waiting lists are now at record levels. These included 275,436 people waiting for magnetic resonance imaging (MRI) scans, up 35% since the end of 2019, and 447,993 waiting for a non-obstetric ultrasound, up 30% in the same period. 163,265 are waiting for CT scans too, up 20% since the end of 2019, while there has been a 69% leap in numbers waiting for echocardiography tests. Some patients were going into debt taking out loans to pay for private treatment to escape "unacceptable" pain, argues Ashworth:
"Thanks to years of Tory underfunding, staff shortages and cuts, a two-tier health service is opening up, eroding the founding principles of the NHS as a universal service for all. A rescue plan for the NHS is now more urgent than ever".
From: Health Campaigns Together, October 2021
Many thanks to Health Campaigns Together for the above update. Much more info can be found in the Health Campaigns Together monthly bulletin

here

, and also on the links we have collated below
================
---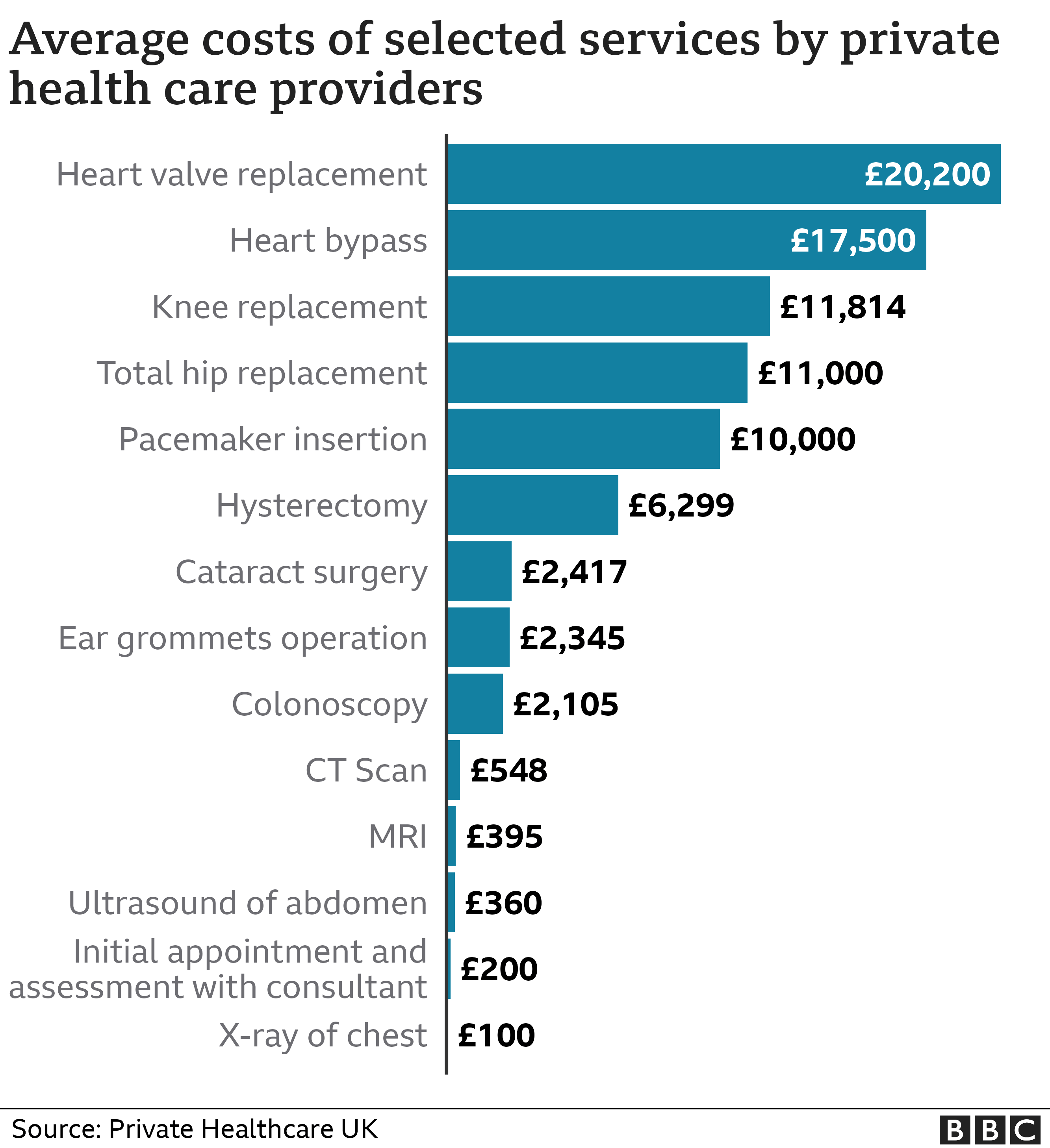 "The big worry about long waits leading people to have to go private is that it will increase inequalities, but also that many people will be forced to make awful trade-offs over their finances in order to be able to get access to the care that they need when they need it.

And that goes against every grain of why we set up the health service" 
Anita Charlesworth, Chief Economist, Health Foundation
================
---
NHS Treatment of Private Patients: the impact on NHS finances and NHS patient care (Centre for Health and the Public Interest)
Click here for this CHPI research study, written by North East medic and KONPNE supporter Dr Sarah Walpole – although written a few years ago, it provides a context and bigger picture, and contains many important points
================
---
Links
================
---
Will this be your future "discharge note"?
---
A hospital bill following treatment for a rattlesnake bite in 2015; charges will have increased over recent years, and the invoice makes it clear in emphasising that full payment is "your financial responsibility"….
BTW…. $153,161  =  £111,325     ….definitely a snake in the grass……
And choose your poison……       ???  Insurance policy payout (if you happen to be paying for one, and if the clauses permit) OR pay upfront (NB medical bills is the largest cause of bankruptcy in the States) OR take a risk ???
---
….and a sobering note from across the Atlantic: In NHS hospitals across the UK right now there are hundreds of patients who are in an ICU bed – critically ill with COVID. For which there will be no charge. #loveyourNHS
USA hospital bill for someone who survived severe covid with 2 weeks intubation in the ICU:
---
You don't need to be ill to be hit with a bill. The baby arrives….and, two weeks later, the invoice. Check out the details on the itemised bill below – this mother was even charged $39.35 to hold her baby after he was born
---
At the time of writing, $1 = £0.75
….and now click here to check out this article:
How Much Does Healthcare Cost in the USA?
---
At the end of the day, we've been warned.  Our lives depend on it….literally….
================
---

What can be done?
Click

here

to find out more and to take an active part in the Campaign to Keep our NHS Public
================
---